Popular Wedding Resorts in Bali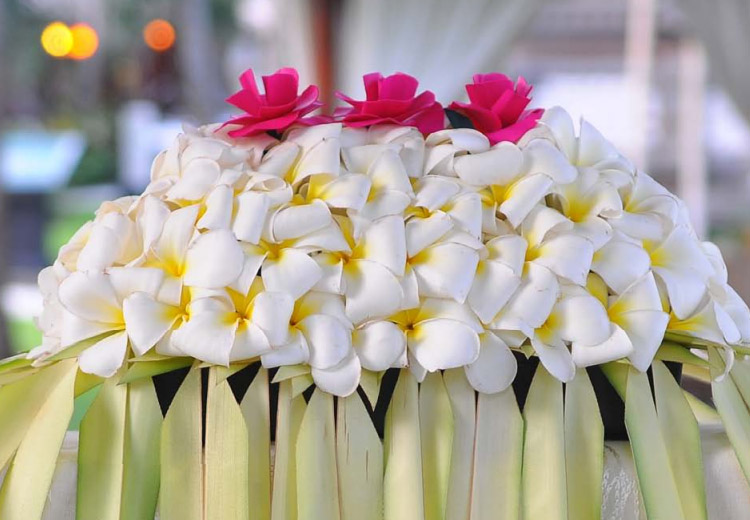 Destination weddings are becoming more and more popular as oversea wedding has become a trend, and now Bali is the top list for do wedding venues. Bali has a lot of luxury resort for everyone's dream wedding. A quick search for wedding in Bali will yield numerous of search result for wedding packages in Bali, all with the lure of ensuring a beautiful tropical celebration.





Wide range of romantic Bali wedding themes and wedding entertainment options are combined with perfect weather, gergeous localtion as well as world class catering services. Memorable wedding locations in Bali is seemingly endless, both indoor or outdoor, from a cliff-top overlooking the sutnning ocean view to a luxury resort surrounded by terraced rice fields. For those desiring a more intimate atmosphere, a private and luxury villa should be considered to create the perfect ambience for a vows exchange, witnessed only by a small group of family and close friends.
Bali has an extensive range of wedding venues located in the grounds of luxurious hotels and resorts, overlooking to the stunning views of Indian Ocean, or surrounded by terreced rice fields, or a glistening white sand beach illuminated by stunning equatorial sunset view.
Magical Wedding Venue in Bali
Discovery Kartika Plaza Hotel
The resort offers a breahtaking beach venues for wedding ceremonies and reception, and it also offers a blissful honeymoon treat for wedding couple at occean front room.
Price : US$ 2,450 nett
Resort : Discovery Kartika Plaza Hotel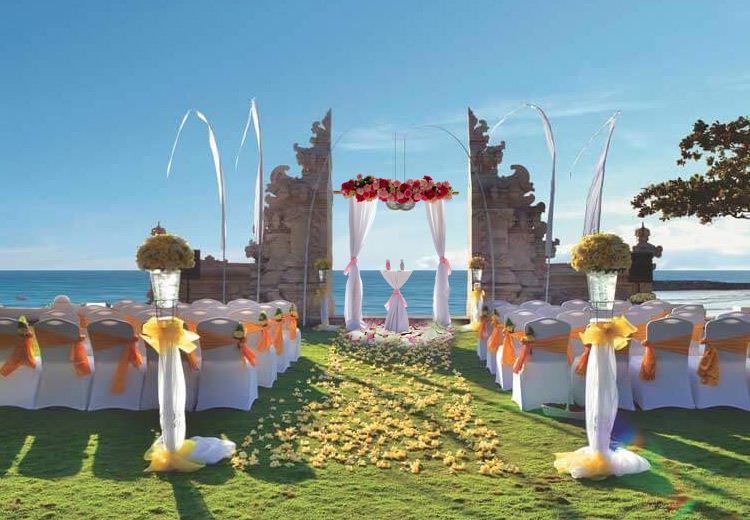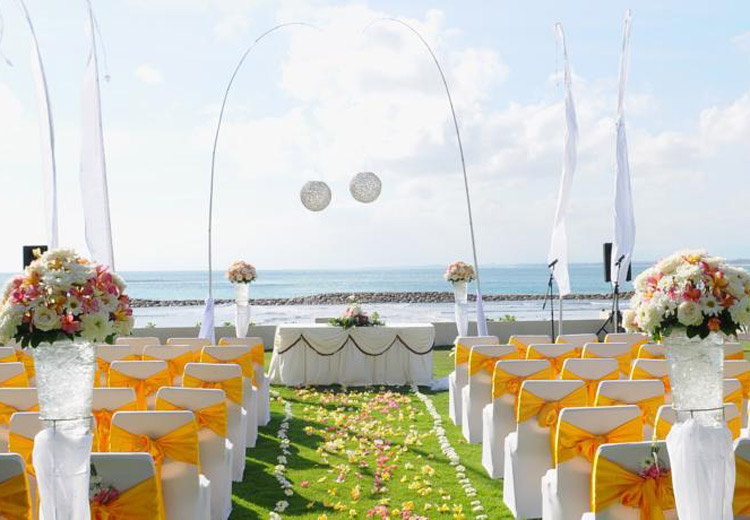 Picture Courtesy Discovery Kartika Plaza Hotel
 The Laguna Resort and Spa
Carved into Bali's most beautiful beacah in the Garden of Bali, Nusa Dua, the resort provides an ideal setting where white sands, a tranquil collage of vivid tropical fardens and crystal, sparkling waters of the expansive lagoons create a private paradise. A distinguished setting of contemporary Balinese elegance, the resort features several intimate yet luxurious Bali wedding venues where wedding day dreams become reality with up to 600 capacities.
Organized by Happy Bali Wedding Your romantic wedding ceremony begins with a personal selection from one of our echanting private venue choice of Laguna Gazebo, Nusa Bagus Island or Temple Garden venues.
Price : US$ 2,675 nett
Resort : The Laguna Resort & Spa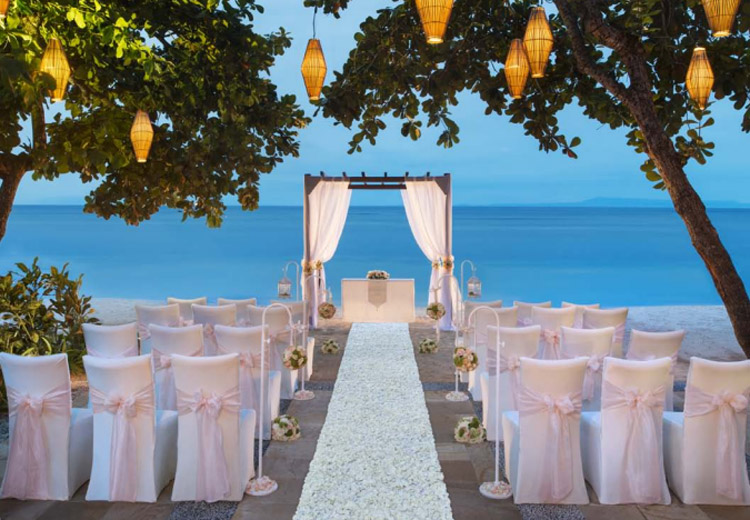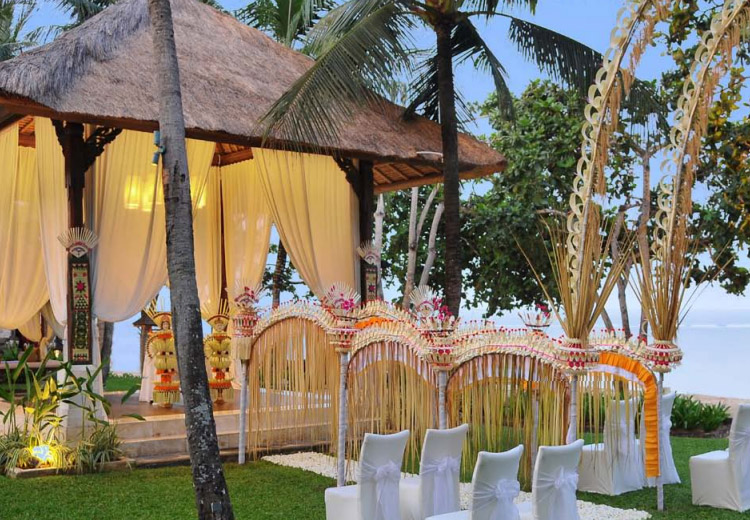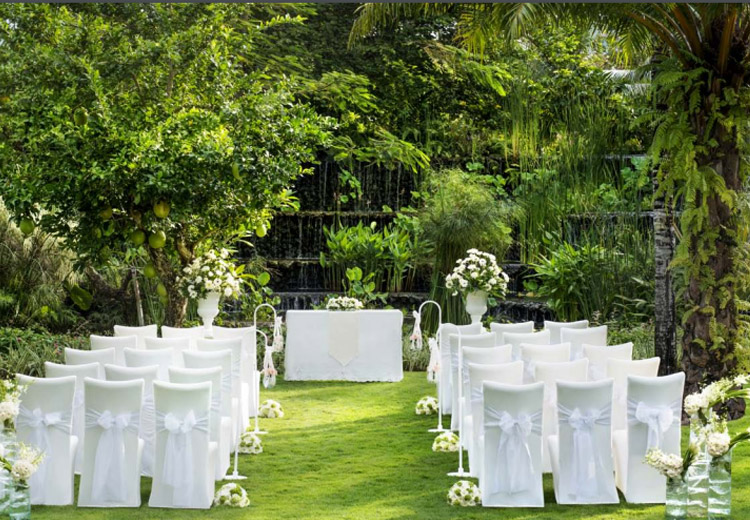 Picture Courtesy The Laguna Resort & Spa
Ayodya Resort Nusa Dua
Ayodya Resort Bali is a place of quintessential Balinese architectural style and elegance. The resort is designed to resemble a Balinese water palace, expanded to the maximum grandeur. There are a host of recreational activities that you and your faily can enjoy at Ayodya Resort Bali. In short, offer a complete destination resort experience. Ayodya Resort Bali great place for wedding place, with the selection of bespoke wedding venues from indoor to outdoors and from garden to the beach. Every single aspect of the Bali wedding ceremonial will be hand-picked, customized and wraps in a warm and friendly service style by Happy Bali Wedding professional team
Price : US$2,995.00 nett
Resort : Ayodya Resort Nusa dua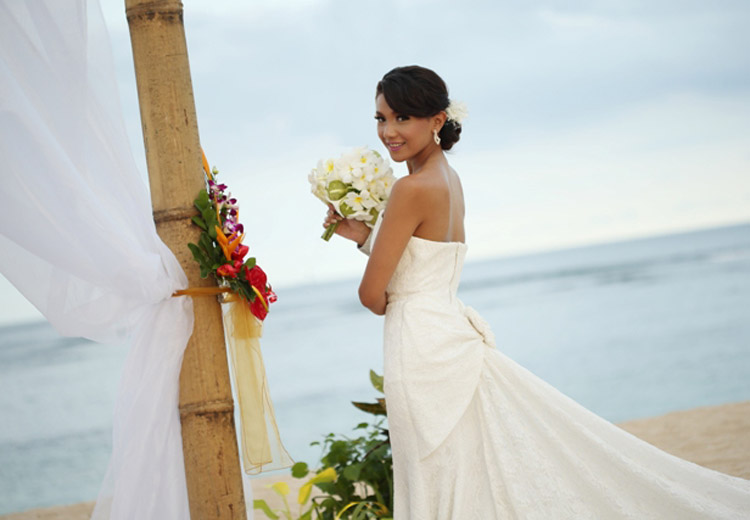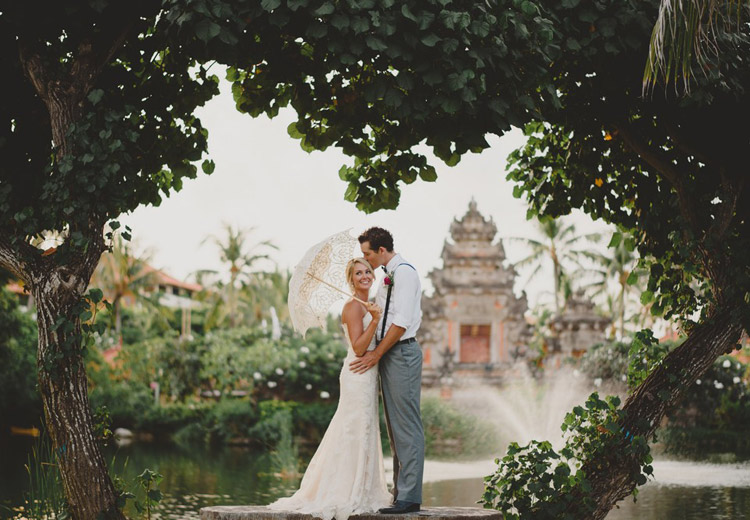 Picture Courtesy Ayodya Resort Nusa Dua
ST. Regist Bali Resort
Exuding understated barefoot elegance and Balinese inspired living, the resort offers infinite panoramic ocean views on a fenerous 9 hectares of lush garden, a strand pool with a swim up bar and 3669sqm of crystal blue lagoon to its lavishig guestrooms. A St. Regis Bali Wedding is a celebration beyong expectation. Every detail is attended to with their legendary bespoke service and intimate touches. THe combination of exquisite spaces and a exceptional staff ensures that wedding ceremony will be memorable for both setting its flawless execution.
Price : US$5,895.00 nett
Resort : ST. Regist Bali Resort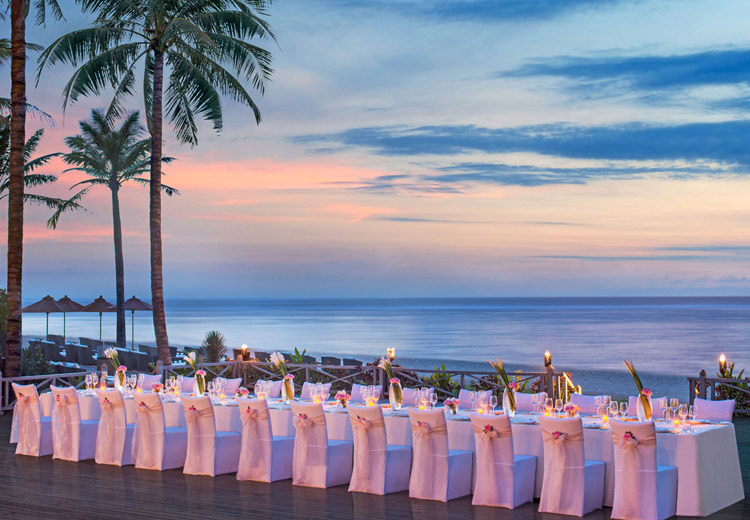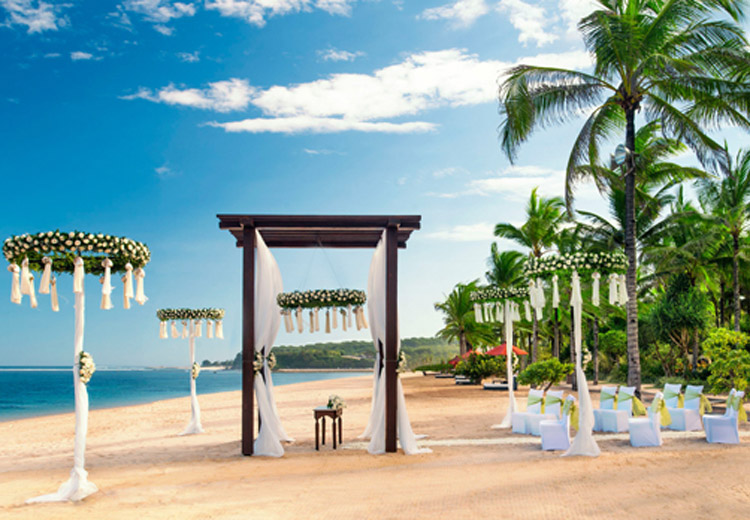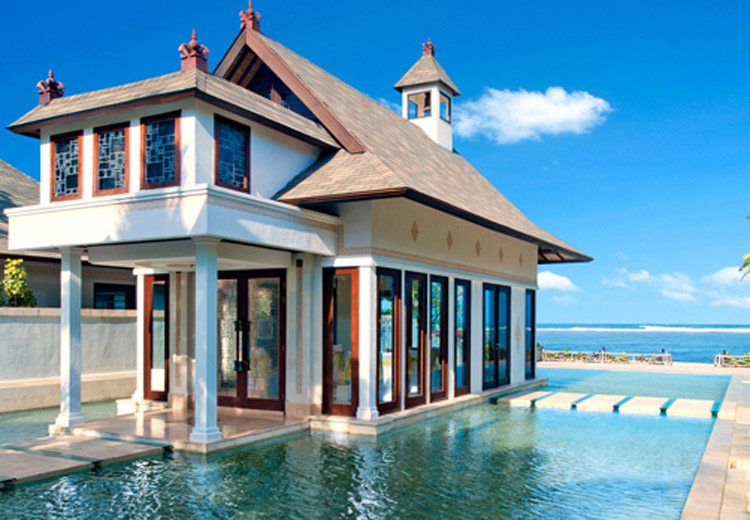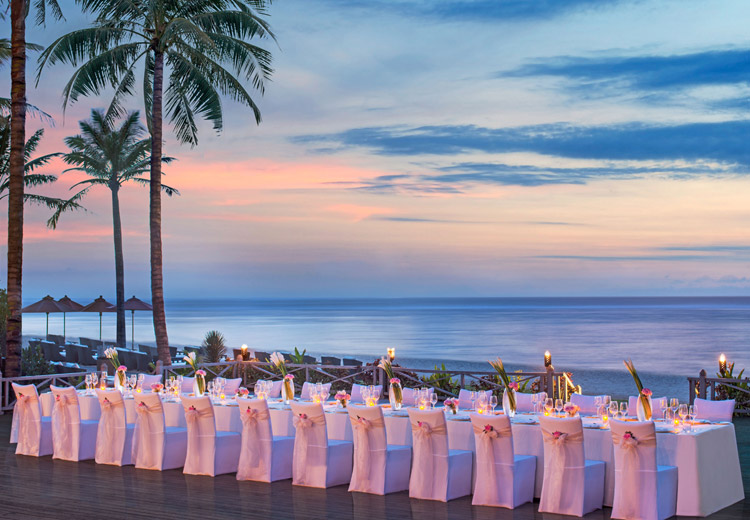 Picture Courtesy St. Regist Bali Resort
Inaya Putri Bali
Exuding understand barefoot elegance and Balinese inspired living, the Resort offers infinite panoramic ocean views on a generous 9 hectares of lush garden. Happy Bali Wedding as professional wedding organize and planer in Bali offers wedding venue wedding chapel or garden wedding or Bali beach wedding at Innaya Putri Bali. A graceful construction located on a high floor facing the panoramic ocean line and soak in the frand view of the horizon.
Vast, lush green garde overlooking the clear waters make this landscape, proving beautiful ocean front set up for up to 300 seating guest on the garden and beach area. Moreover, a majestic glass wedding pavilion offers sweeping ocean views for couples to celebrate their love and union before an intimate audience of family and friends.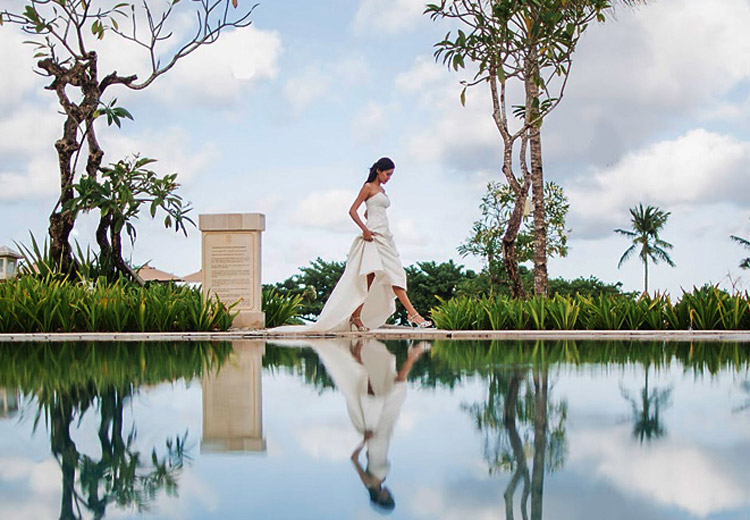 Picture Courtesy Inaya Putri Bali
Sofitel Bali Nusa Dua
A lavish and spophisticated beachfront retreat offering the height of tropical luxury. Boasting superior views of the shimmering sea, Sofitel is exquisite rooms, suites and villas offer true live star comfort. Indulge in a savant mix of chic world class resort and villas facilities, French elegance, and authentic Balinese charm.
Sofitel Bali Nusa Dua also has provide the wedding venue, Jewel Box, is masterfully designed structure features all four walls comprising floor to ceiling glass windows offering clear views to the gardens and seascape, creating a sense of lucidy and cohesion. This ultramodern structure is located at the eastern beachfront of the luxury resort, a perfect setting fro reception dinner and intimate gathering.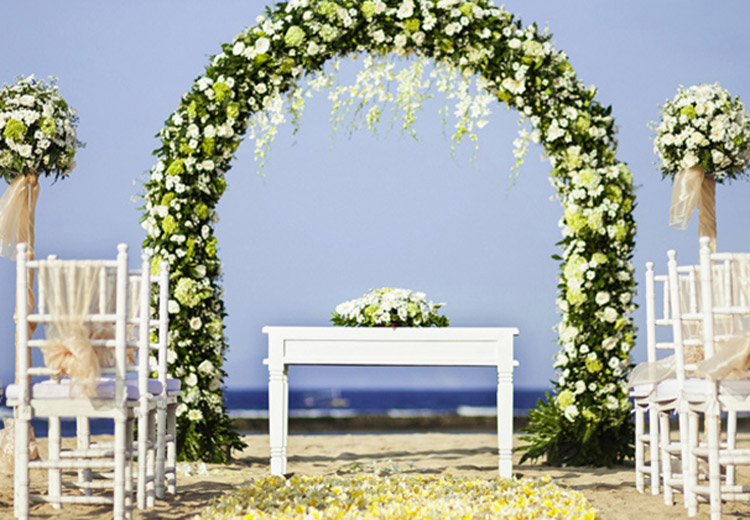 Picture Courtesy Inaya Putri Bali
Antara Seminyak Bali
Tying the knot at a rooftop wedding venue overlooking to the crystal -clear Indian Ocean will be the dream wedding comes tru. An open-space yet intimate venue perfect for wedding ceremony or renewal of vows.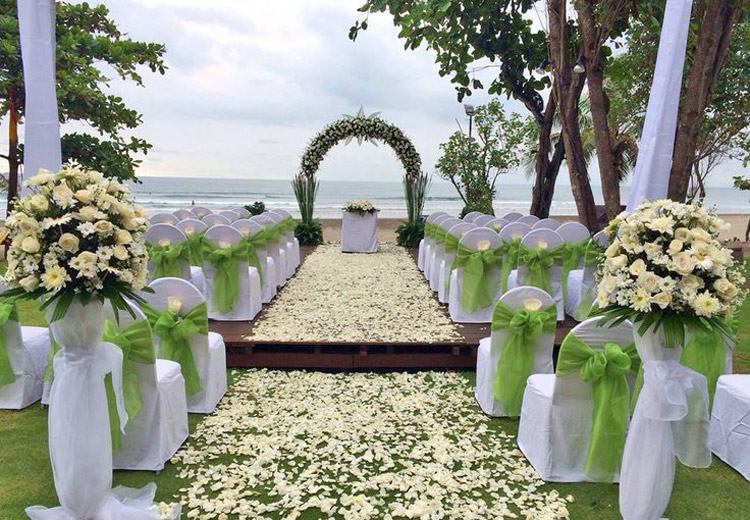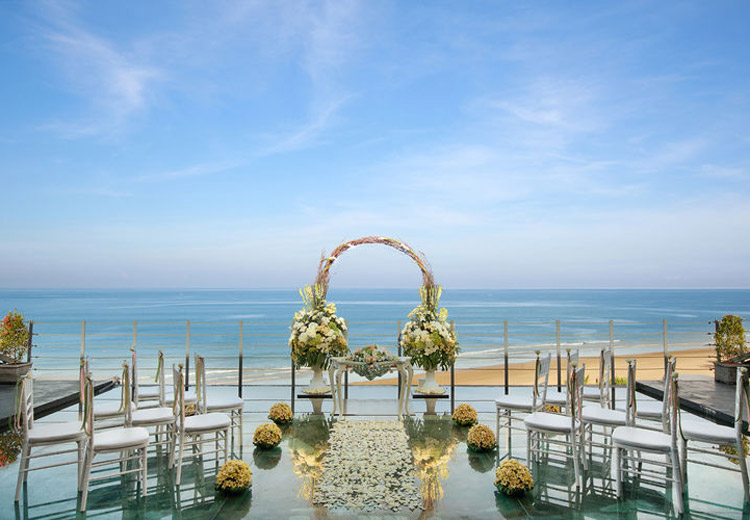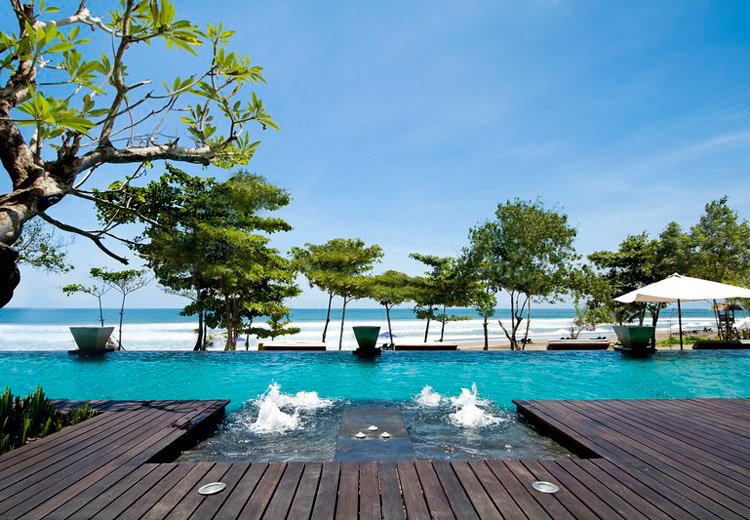 Picture Courtesy Anantara Seminyak
Puri Gangga Resort
Say I do in a mesmerizing valley view venue with a majestic Balinese temple as the backdrop. It is a moment which will las a lifetime.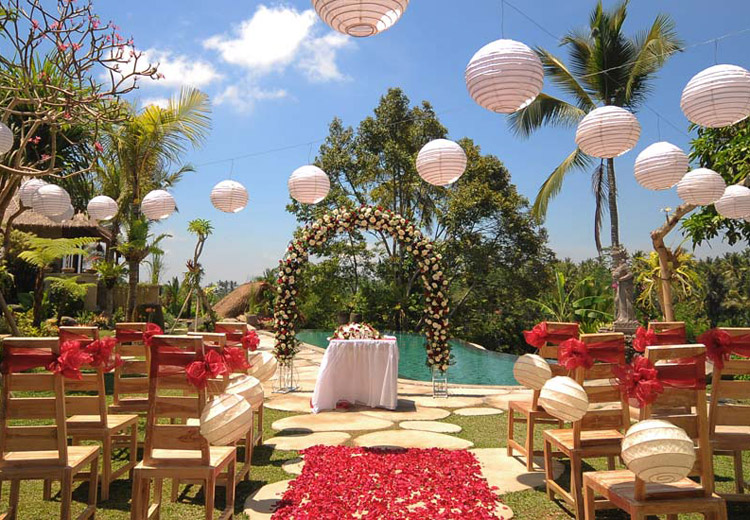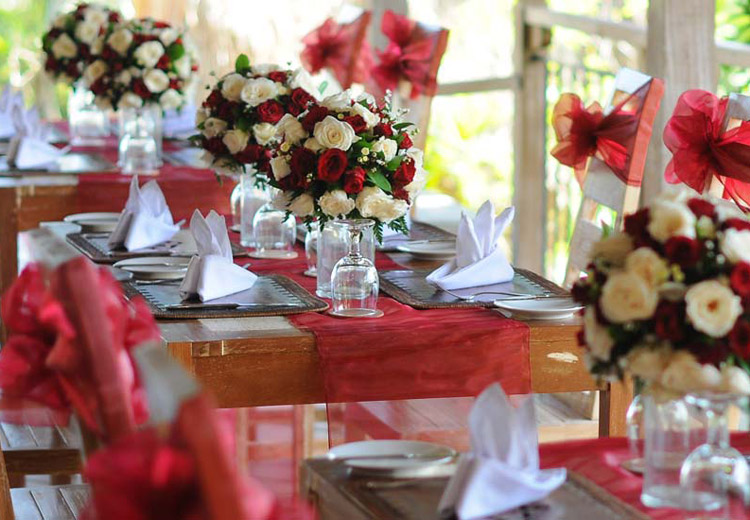 Picture Courtesy Puri Gangga Resort Ubud
Golden Tulip Jineng Resort Bali
The Golden Tulip Jineng Resort offers a uniquely Balinese experience, inspired by its tropical setting and deep cultural heritage. The Resort itself incorporates traditional Balinese themes. From the stunning archicture inspired by the sacred lotus flower, to the wold-class facilities named after ancient Sanskrit concepts. The Resort offer indoor and outdoor wedding venues. Weather happy couple is planning a lavish banquet for up to 150 guests or an intimate celebrateion with close friends or family.
Atta Mesari Villas
A home to experience the uniqueness cultural and the natural of Ubud, Atta Mesari Villas in a luxury traditional boutique resort in UBud, laid out toward the river facing to the beautiful rice terrace view. Atta Mesari BIlla has a distinctive architectural style blending modern and tradtional Balinese influence.
Wedding venue located at the edge of the hill, Blue duck restaurant offers you beautiful river completed with natural forest as well as the rice paddy. With seated capacity at 60 seated and 80 standing party. Beautiful wedding venue at pool side, altar table, wedding celebrant flower arrangement in wedding venue, flower streching, flower bouquet for bride and button hole for groom, one bottle local sparkling wine for toatst, traditional balinese music Rindik, selected decoration for your perfect and unforgetable a Balinese or Western Blessing wedding ceremony.