5 Popular Things to Do in Jimbaran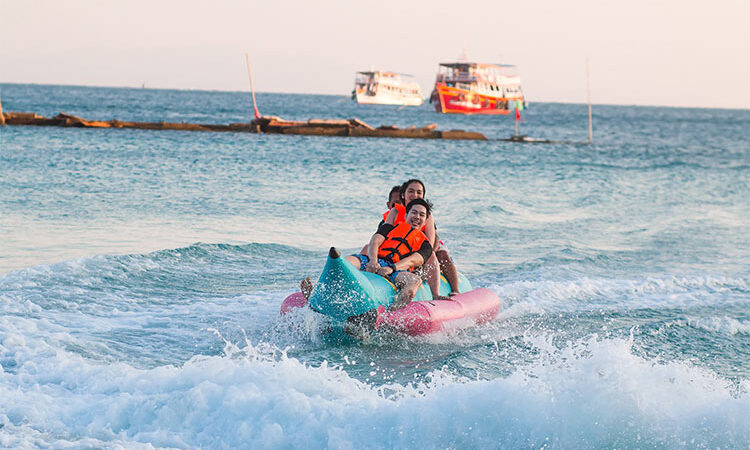 Jimbaran is located in South Bali, this area is very famous for its international and premium private villas in jimbaran or hotels accommodation is located on a cliff with ocean views. Is very well-known with various adventure and activities that can be enjoyed by tourists who are on vacation on the Island of the Gods. It is not inferior with other places in Bali, for example Ubud which is famous for its beautiful natural attractions and tour activities such as rafting at Ayung river and also ATV rides across river roads with natural scenery and rice fields, cycling activities in the middle of rice fields or zoo tours with various wild and rare animals which are one of the attractions for tourists and Paintball. Like Ubud, Karangasem is also very famous for rafting activities on the Telaga Waja River.
And if you visit Jimbaran, which activities are available? Here are some references of things to do in Jimbaran and places to stay that can be taken into consideration when traveling in the Jimbaran area:
Paintball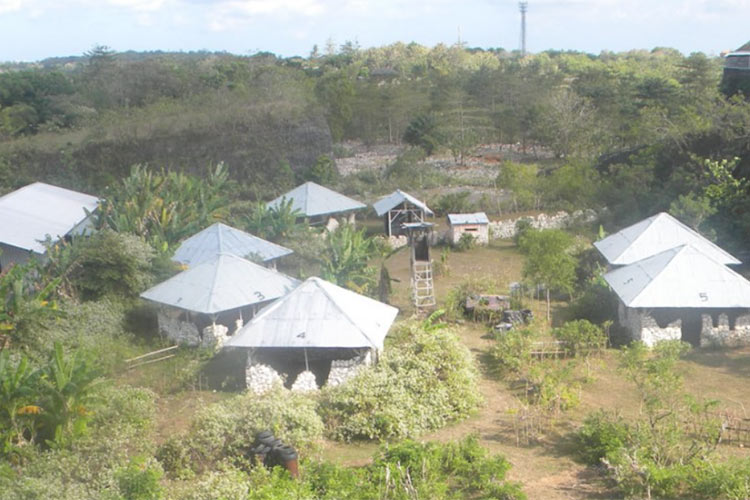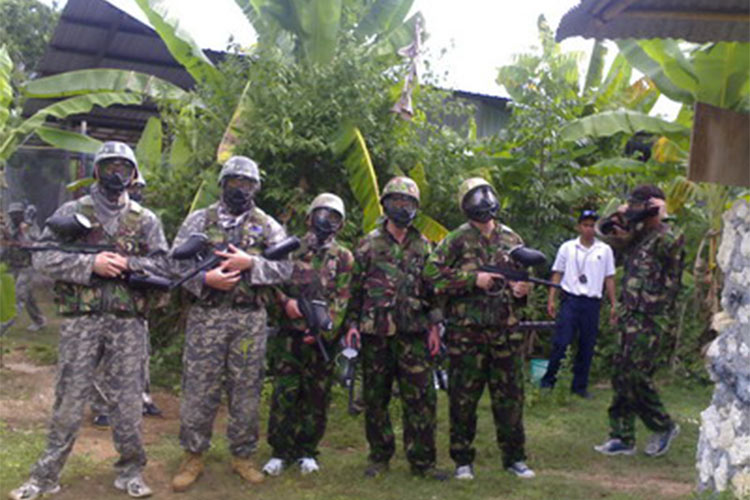 Like war games, paintball activities you can try. The game is generally played in groups, and more teams in a group will make it more adrenaline-pumping. The paintball venue is located at Ungasan Perum Bali Kencana Resort, Jimbaran. Duration of the game for 20 minutes with a 5-minute break, equipment such as snapan places and paint balls with U.S. Equipment supplied standards. All equipment are very safe and each participant will be given a head cover and safety mask. Price is including insurance for each paintball participant.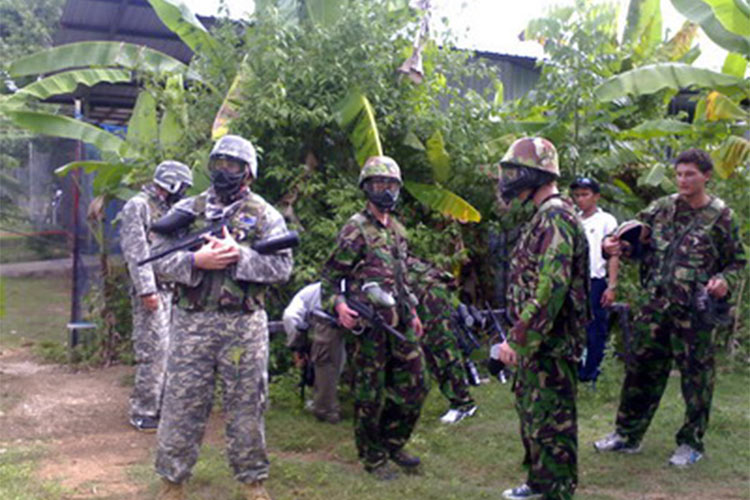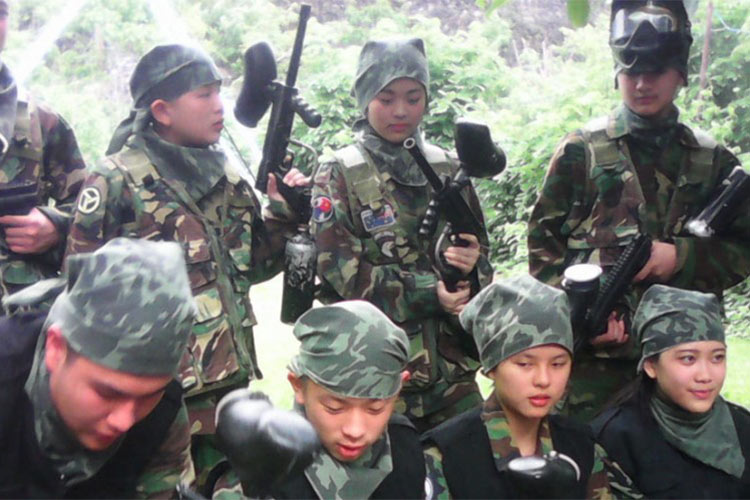 The price of the paintball game is Rp. 550,000 / person. The price includes round-trip transportation with a minimum booking of 5 people (Nusa Dua, Sanur, Legian, Kuta, Seminyak) and mineral cold water. The price does not include personal expenses such as soft drinks, tea & coffee, extra paintball = Rp.75,000 / 50 paintballs.
Watersports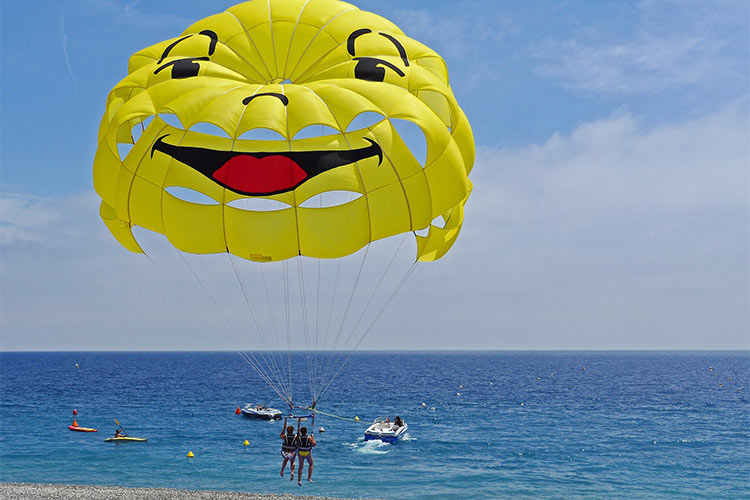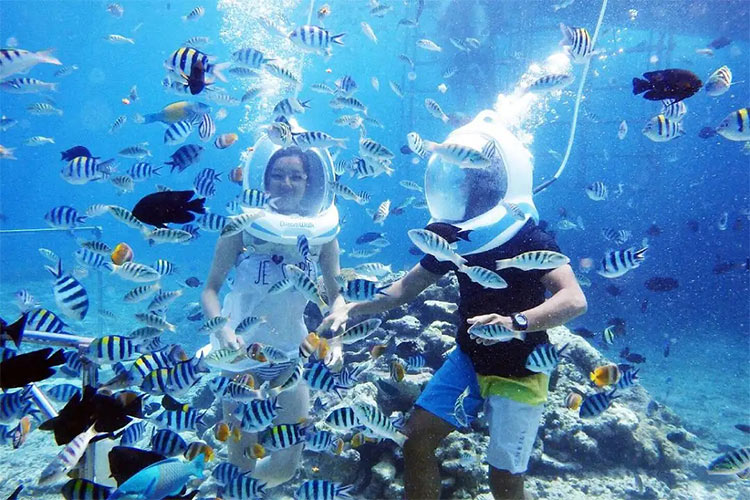 Moving on to water activities, Tanjung Benoa Beach is famous for its watersport activities. Are you interesting in watersport excursions? This watersports is reserved for adult and not recommended for children. And what activities are provided by the Bali watersport agency? There are approximately 10 activities available and you can choose freely based on your preferences.
First popular watersport is Banana boat which is towed by a speed boat, the duration of this game is approximately 15 minutes, participants can be up to 8 people at a price of Rp. 70,000 / person. Other attractions is rolling donut with group participants ranging from 2 participants to 5 participants per ride for Rp. 80,000/per person. As Banana Boat, is towed by a speed boat with a duration of 15 minutes.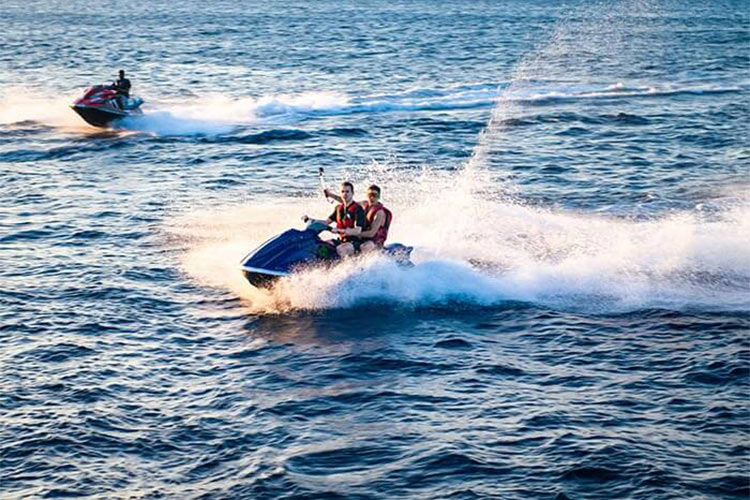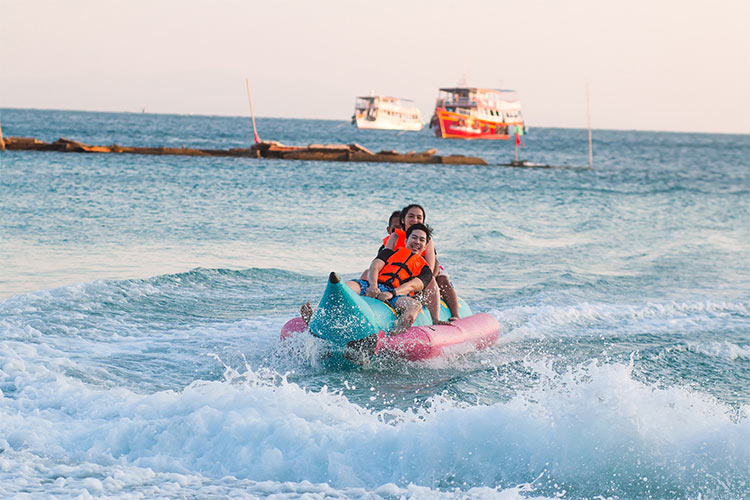 Enjoy the sensation of being a flying fish in the air, this activity is called Flying Fish with 2-3 participants, a rubber boat will be pulled at high speed until it floats above sea level with duration 10 minutes. The price of the Flying Fish activity per person is Rp. 150,000. Another activity is Parasailing like a parachute jump, participants will be pulled by a speed boat until they float. Parasailing game prices start from Rp. 80,000 – 300,000 per person for a game duration of 10 minutes.
Jetski is a watersport that is very popular with tourists, the price is Rp. 150,000 / person can do alone or in couples with a 15-minute duration. Wakeboard activities duration is 15 – 30 minutes, the price for this game is Rp. 250,000 / person and Flyboard rides cost Rp. 550,000 per person.
Diving, Snorkeling and Seawalker tours are also available, you can try it to enjoy the underwater scenery with beautiful coral reefs and fish swimming around you while diving.
ATV Ride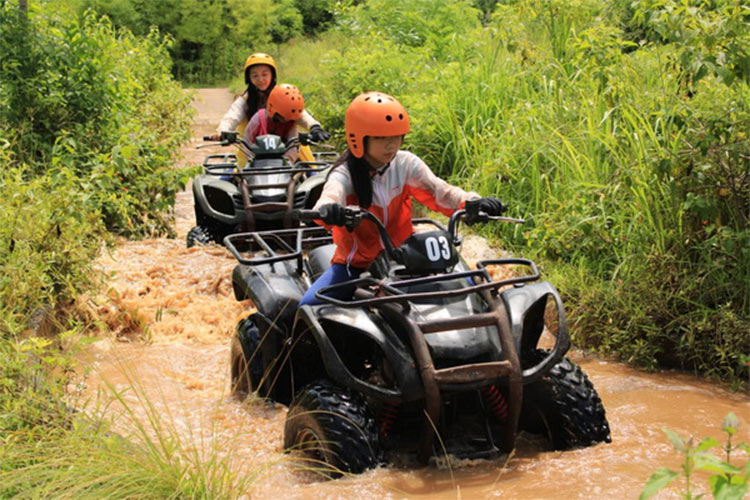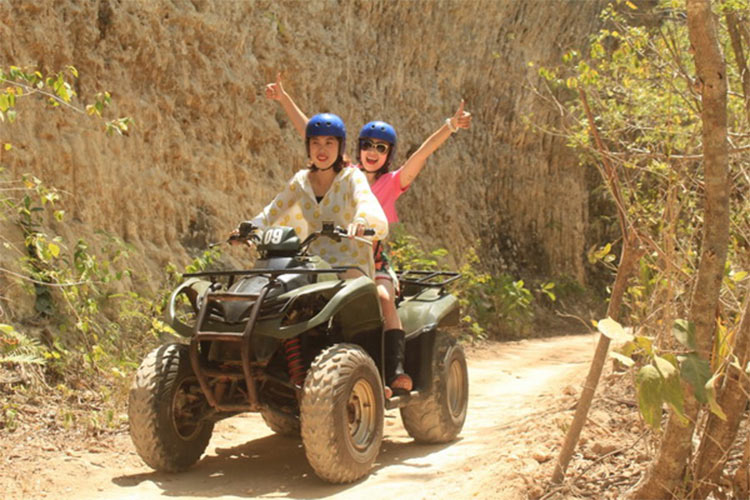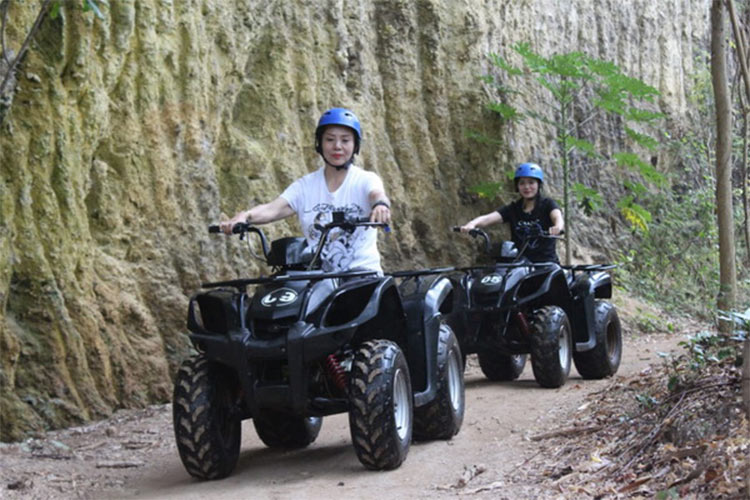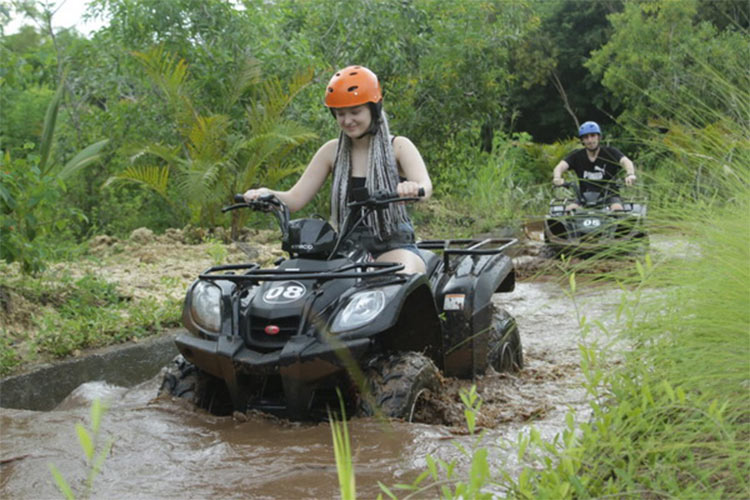 Not as well-known as ATVs in Ubud, but there are ATVs in Jimbaran, organized by Bukit Sari Rock ATV Adventure located in the rocky hills of Uluwatu, South Kuta close to the famous tourist attraction Uluwatu Temple. The ATV adventure takes approximately one and a half hours with plenty of thrilling terrain to traverse including jungle, water and rocks. Our staff will pamper you with young coconut drinks at a rest stop during the ride. The price for single is IDR 450,000 and tandem is IDR 550,000.
Surfing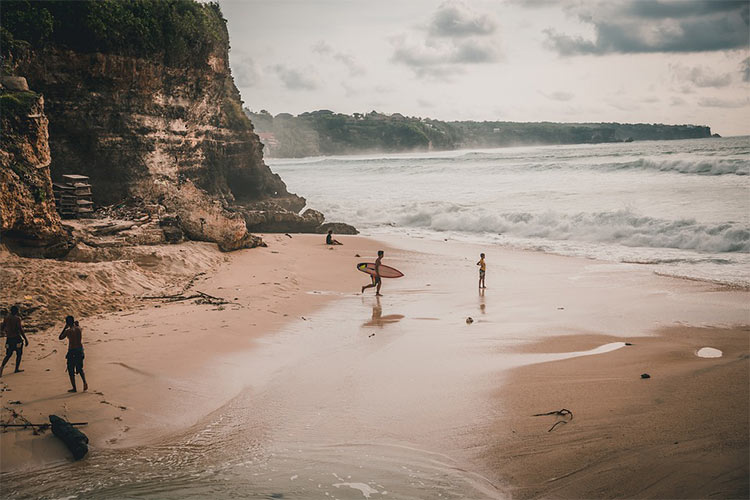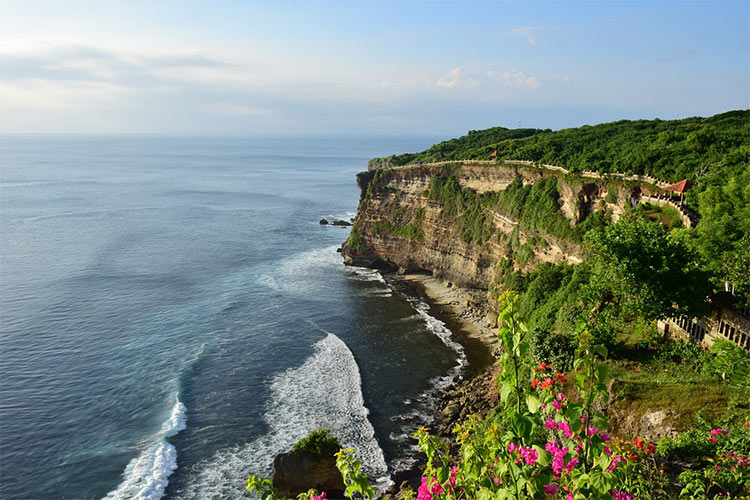 Uluwatu is very famous for its several beaches that are perfect for surfing enthusiasts. That is the main destination for surf maniacs to surf in Bali. What are the beaches that are famous for their waves that are perfect for surfers? Here's a list of beaches in Uluwatu that are destinations for surfers:
Uluwatu Beach
Perhaps the most legendary of Bali's surf spots, Uluwatu Beach sits underneath the beautiful 11th century Pura Luhur Temple. Five amazing breaks in one — The Peak, Racetrack, Outside Corner, Temples and The Bombie. Depending on the time of day and swell, each of Uluwatu Beach's peaks. To gain access from the car park, and the selection of cafes and facilities lie above, traverse down some stairs into a wondrous cave setting where you can swim straight out into the breaks.

Padang Padang Beach
Known as the 'Balinese Pipeline', this sandy beach located on the Bukit Peninsula is just three kilometres north of Uluwatu Temple and is accessed via a winding path down the cliff-face. There are two surf breaks at Padang Padang – Padang Padang Left and Right. Padang Padang Left is the more infamous with a reef break that features all the tubes, wave height and speeds an expert could want. Like Hawaii's famous Pipeline, it requires significant skill to attempt.

Dreamland Beach
Access is different from Bingin beach, but if you stand in the beach area you can see padang padang beach from a distance. This is also one of the beaches suitable for surfers to surf. The location of the beach is in the pecatu graha area which is a hotel area in uluwatu.

Bingin Beach
Bingin Beach is rocky, rugged and harder to access, making it more suitable for surf culture. This beach is also perfect for relaxing and sunbathing, away from the crowds and in a quieter atmosphere. Around the beach are several restaurants and bars overlooking the bay.

Nyang Nyang Beach
It is one of the most popular surfing destinations, not only for its beautiful scenery but also for its surfable waves. The beach has short waves on the right and a larger, more difficult peak at its northern end. Located to the south of Uluwatu Temple, Nyang Nyang's secret paradise can only be accessed via a rocky path from the main road and then a 600-step walk to the beach.
Paraglading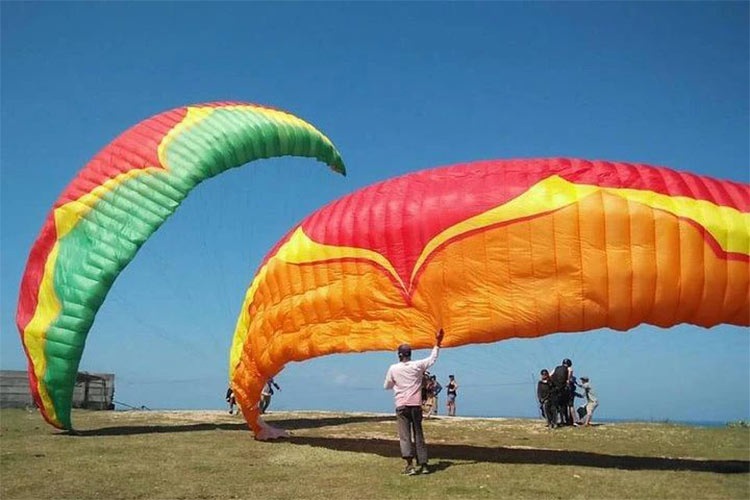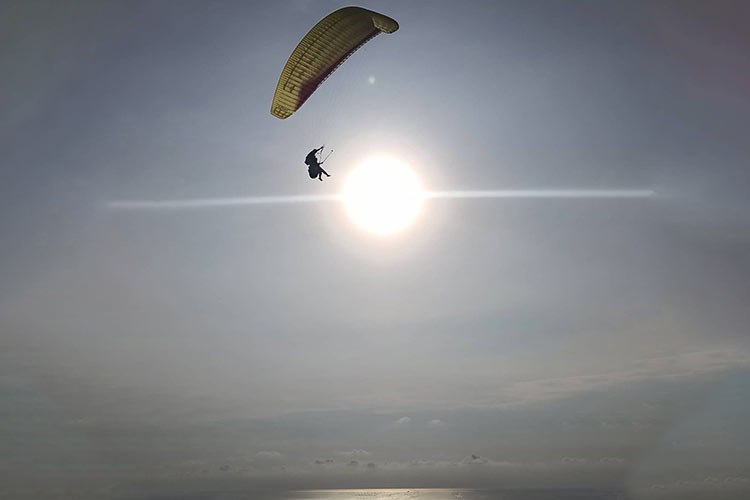 Anda penggemar paralayang atau paraglading? Di Bali ada salah satu tempat yang sangat terkenal untuk memulai arena ini yaitu terletak di Uluwatu. Wahana ini cocok bagi anda yang sudah terbiasa atau yang belum pernah melakukannya. Bagi yang belum tidak perlu khawatir, karena saat penerbangan akan ditemani oleh pilot yang sudah berpengalaman dan bersertifikat. Harga untuk paraglading ini mulai dari $50/orang.
Those are 5 things to do in Jimbaran that are amazing and a must-try while on vacation in Bali. We will always provide updated information about interesting places and trending activities. If you need private villas located in Jimbaran which the villa is closed with above activities book Casa Bonita Villa which consist 5 bedroom villa with outdoor swimming pool and overlooking to Garuda Wisnu Kencana monument and Ngurah Rai Airport.