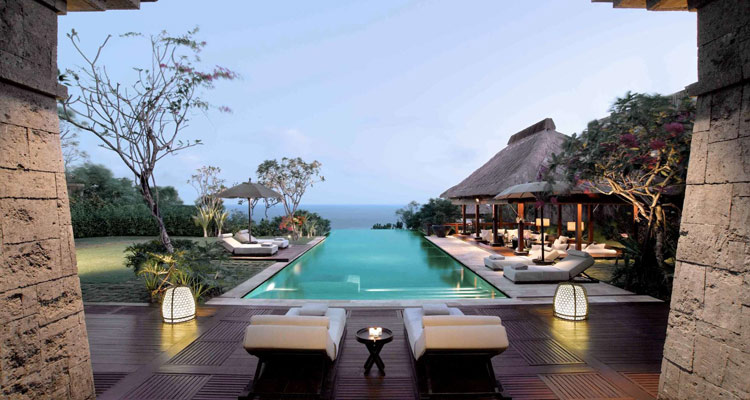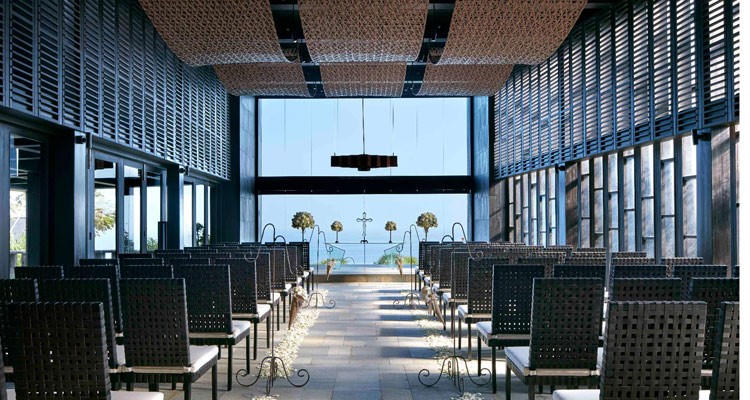 Best wedding Chapels in Bali with amazing view from the chapels for your unforgettable wedding procession. As the main of the world tourist destination, Bali is also one of the first destination for couples to marry. There are hundreds of beautiful and unique places and an open atmosphere, in Villa or special wedding chapels that provides by resorts or hotels that can be a place to hold a unforgettable dream wedding.





Here are some wedding chapels that may be a consideration for young couples who want to hold a wedding in Bali.
The Bulgari Chapel
There are four option for wedding venues at Bulgari Resort Bali, wedding in villa, beach wedding chapel, Bulgari chapel or water wedding venue. Bulagari resort Bali specially designed by Antonio Citterio Patricia Viel and Partners, Bulgari Bali's chapel is the epitome of the brand's magnificent marriage between distinctive contemporary Italian styles with traditional Balinese design.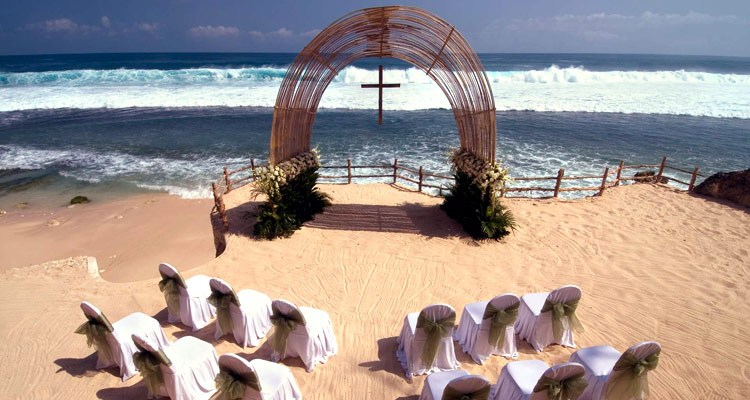 In addition to the grand yet intimate space the resort offers, Bulgari Bali also providesa deducated bespoke wedding planner that can help manage all the palling and coodination to create you most unique and unforgettable moment.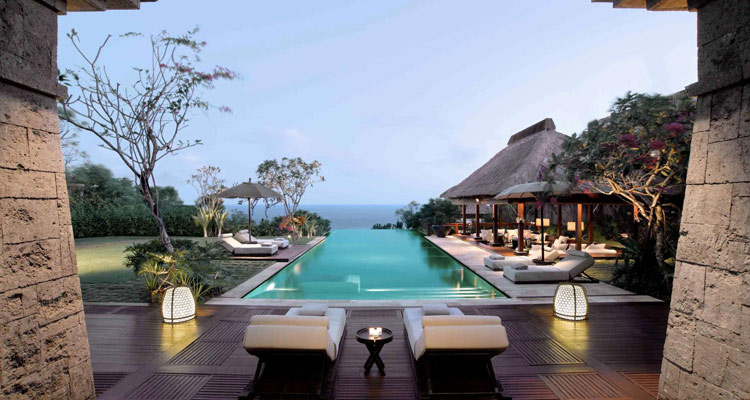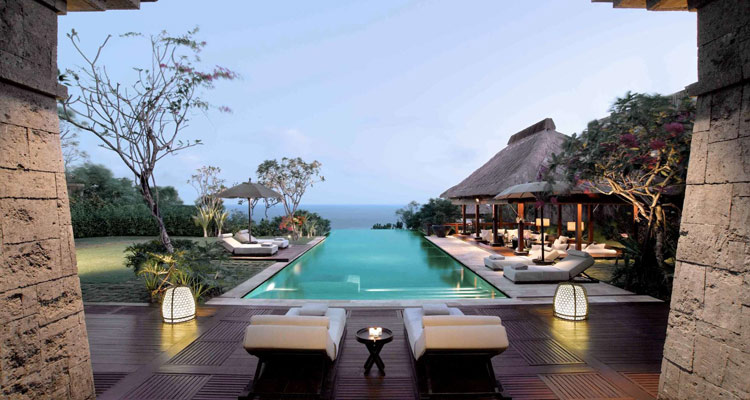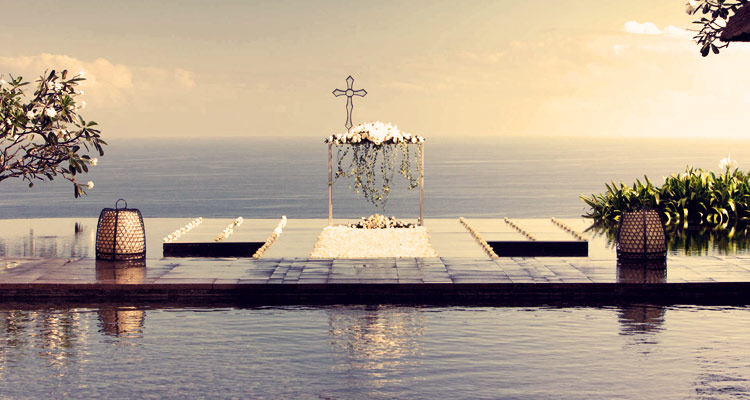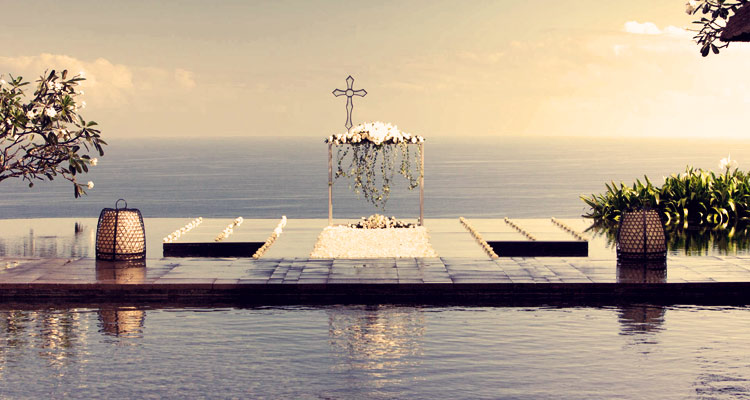 Talking about unforgettable moment, Bulgari Resort Bali offers a one of a kind experience where the bride fets the privilege though only for a limited time of wearing the extraordinary one of a kind bulgari Tiara. The white gold tiara is embellished with a row of seven diamond flowers, each composed of delicate ptetals, and at te center of each flower is a round brilliant cut diamond truly making a paradise island pricess wedding.
Wedding Package Price : US$9,595 nett
Accommodate up to 70 seated guests
Detail Wedding Package at Bulgari Chapel
Tresna Chapel at Ayana Resort & Spa
Magical Indian Ocean view, Tresna wedding chapel at Ayana Resort & Spa is a dramatically illuminated chapel that promises to fulfill the wedding ceremony of your dreams. One of the most stunning design features of the chapel is a see-through glass aisle with a flowing, stone-lined river underneath that leads to a magnificent glass altar.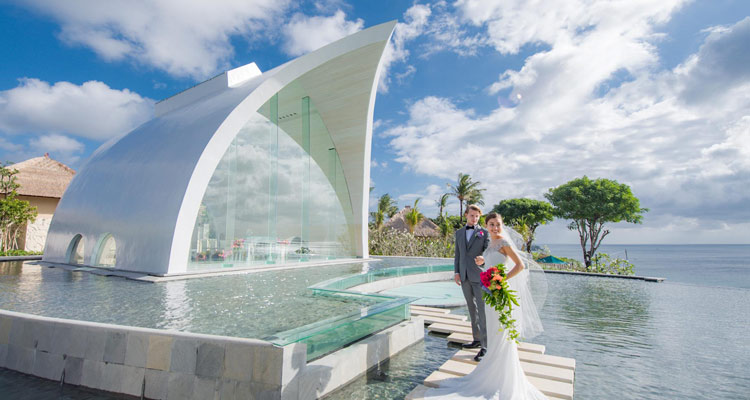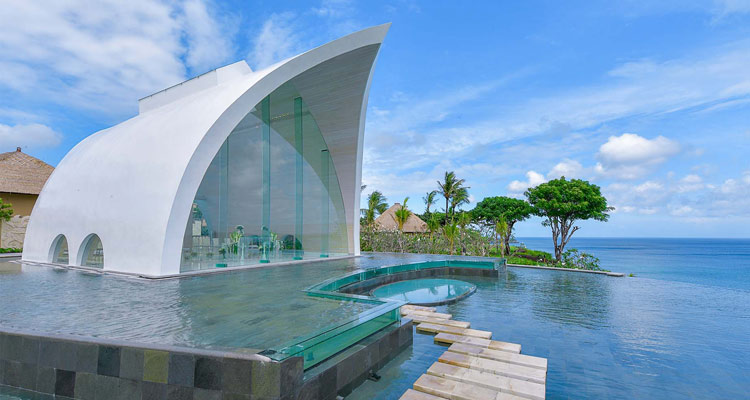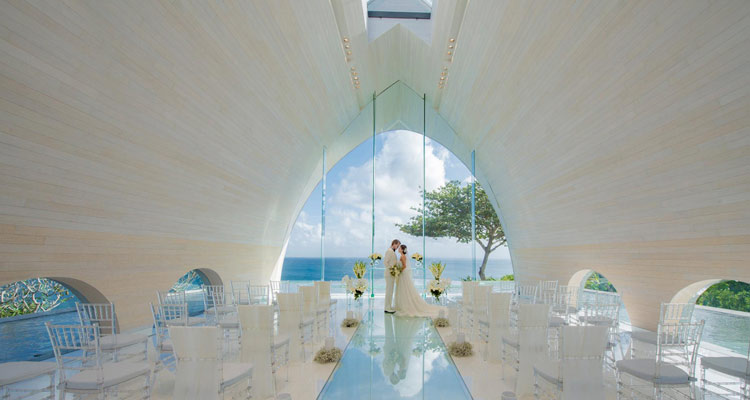 Fully air-conditioned for the ultimate indoor comfort, this chapel can accommodate up to 80 seated guests. As an added touch of sophistication, offers a private driveway and porte-cochere. To ensure that the bride has a VIP experience to prepare for her special moment, the adjacent Bridal Villa provides the perfect spot for her to prepare make-up, hair styling and dressing.
Accommodate up to 25 seated guests
Amanda Chapel
Amanda Chapel located in very strategic place in Tuban, Bali is one of favorite wedding chaple for couples to celebrate a intimate wedding in Bali or just do for prewedding photo session. Amanda Chapel with its tree angle concept was built on 2009 materialized by glass.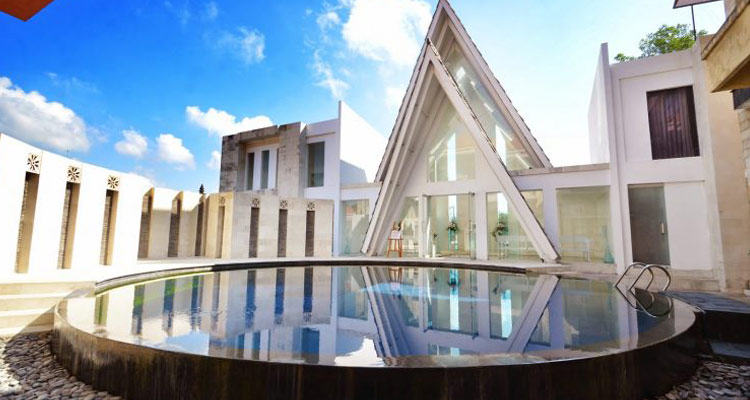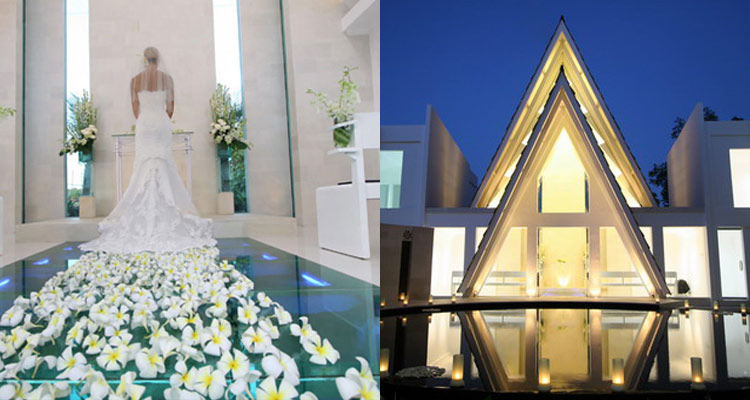 This chapel can accommodate up to 30 seated guests. Wedding package at Amanda Chapel price start from USD 2,495. Price include benefits, such as religious ceremony by Protestant Minister, wedding certificates, civil wedding certificate, document processing.
Wedding Price : USD 2,495nett
Accommodate up to 25 seated guests
Detail Amanda Wedding Package
Anantara Uluwatu Bali Resort
A string quartet in the background as you walk down the aisle strewn with frangipani petals, hues heightened by the setting sun. Anantara Bali Uluwatu Chapel set over the dramatic cliffs the perfect frame for the wedding of dreams. Say your vows in the most magical of settings, an intimate Bali wedding with professional wedding assistant for your perfect wedding moment.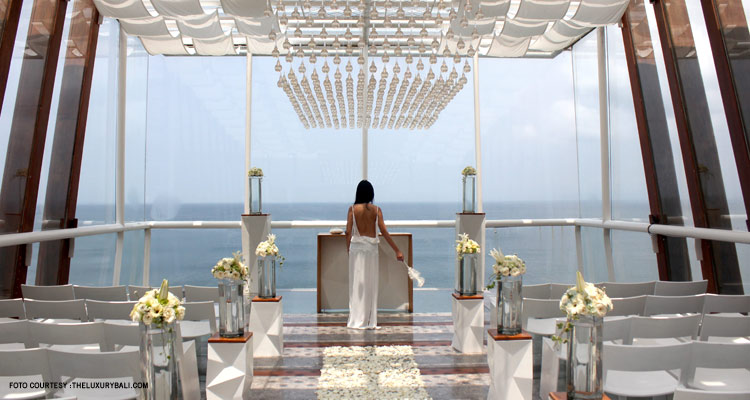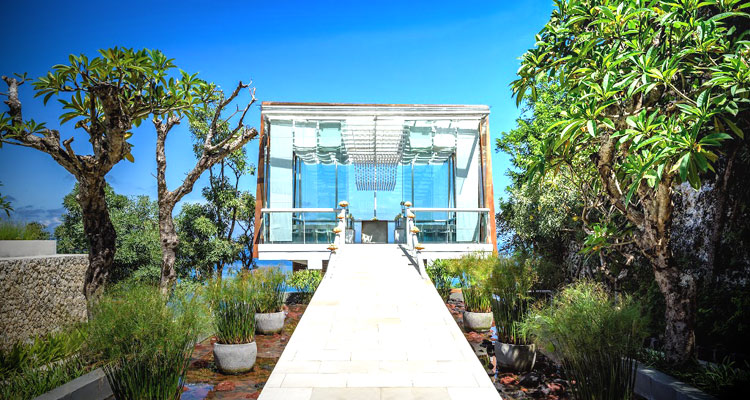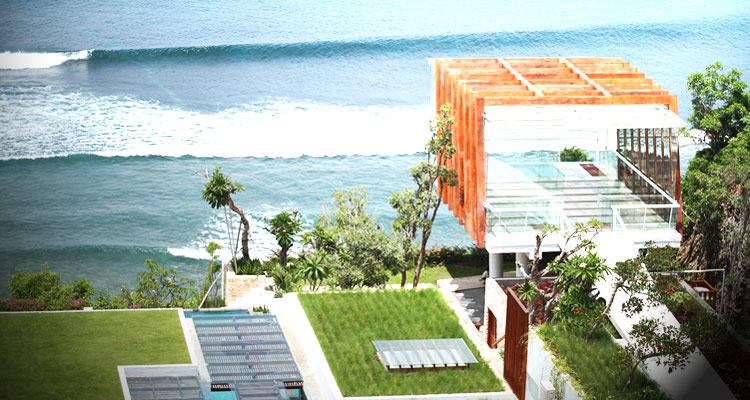 Anantara Bali Uluwatu Resort is a one stop paradise for weddings in Bali and offers an array of enchanting venues for an unforgettable wedding ceremony.
Wedding Package Price :  US$ 4,995 nett
Accommodate up to 25 seated guests
Detail Anantara Uluwatu Wedding Package
Samabe Beach Wedding Chapel
Samabe Bali luxury resort offers six defferent wedding venues and each location has own characteristics in building and spectacular view bill be a memorable moment. What could be more romantic than getting the blessed moment against a breathtaking view of the Indian Ocean in the Island of the Gods? Tread the bridal walkway within the contemporary glamour of our majestic Pearl Chapel.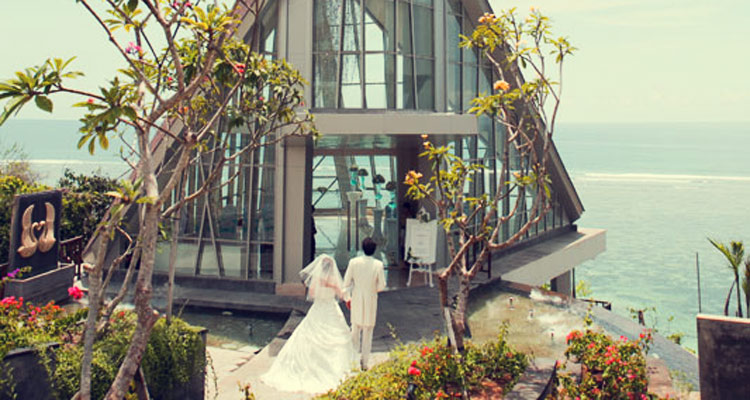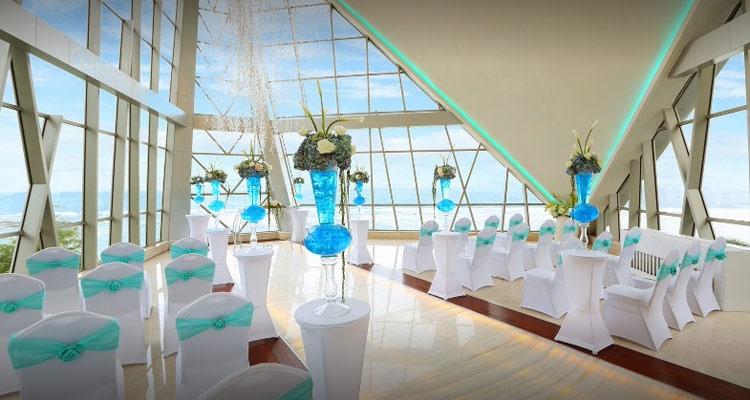 The contemporary majestic glass wedding chapel is blessed with a breathtaking 180-degree view of the Ocean. Walk on the illuminated bridal walkway to the altar and exchange your vows. Maximum capacity is up to 80 guests. Pearl Chapel is available for a wedding ceremony at your preferred time.
Package Price : USD 2,895 nett
Accommodate up to 80 seated guests
Detail Samabe Wedding Chapel Package